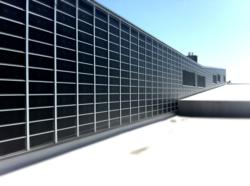 Durham, NH (PRWEB) June 25, 2013
In late 2012, the University of New Hampshire (UNH) was successfully awarded grant funding to install a 2,400sf high efficiency solar air heating system on the south wall of Kingsbury Hall, a building with a high concentration of energy intensive laboratories that require high amounts of ventilation. The project which uses the Lubi solar hot air system will help to reduce ventilation heating costs for the building by pre-heating ventilation air with the sun.
The Kingsbury Hall project was awarded funding due to its innovative design and opportunity for major renewable energy advancement in the State of NH. The solar air system will convert a portion of south facing wall at Kingsbury Hall into a solar heating collector to pre-heat ventilation air. The glazed collector panels, called the Lubi solar air heating system, uses simple framing members to create a narrow air space over the face of the existing wall. The air space is heated by the sun via a black absorber material behind the glazing. During the heating season, Kingsbury's ventilation system draws the solar heated air from the wall cavity via perforations in the glazed surface. The building will benefit largely from the significant reduction in heating costs currently required to overcome such large fresh air volumes.
Ventilation heating and cooling has the largest impact and footprint of just about any process in commercial and industrial buildings, says Matt O'Keefe, UNH's Energy Manager. Currently, Kingsbury Hall requires continuous ventilation to make up for the significant exhausting required to maintain a healthy indoor air environment for its laboratory spaces. UNH has taken an aggressive and innovative approach that serves as a model to universities and lab spaces all across the country.
In 2012, UNH installed an air sampling system to constantly monitor air quality throughout the building, which allows them to significantly reduce their ventilation demands without sacrificing occupant health or comfort. The solar air heating system then attacks the base or minimum load for a total reduction in ventilation heating costs of around 60% to 80%. The solar portion alone is equivalent to locking natural gas rates at $ 0.75 to $ 1.00/therm for the next 25 years.
UNH prides itself in utilizing cost effective alternatives for energy production as well as innovative approaches to reducing its energy consumption, said Charles Croteau, UNH's Project Manager overseeing the system integration.
The project was delivered under a Design-Build partnership between Shift Energy, LLC (http://www.shiftnrg.com) of Biddeford, Maine and Colby Company Engineers, LLC of Portland Maine. Mick Dunn, owner of Shift Energy, says that the solar thermal company has designed and installed some of the largest solar air heating systems in New England and now the USA. The company represents Enerconcept Technologies, Inc, the manufacturer of the Lubi wall system.
What's exciting about this technology is not just that it has attractive paybacks, but it's incredibly simple, has no moving parts and replaces conventional architectural siding systems", said Mr Dunn. "We can design and install solar solutions for similar or less cost than brick and many other common architectural cladding systems, and offer the look and feel of architectural glazing. This means that a new construction project can have access to free solar heat and this is a major step forward for solar energy. Add to this a 25% rebate from NH PUC, a 30% federal tax credit and depreciation for private businesses, and there's really no reason why any new building with a south facing wall shouldn't have a solar heating system incorporated into the design.
The solar solution developed by Enerconcept Technologies, Inc, has been widely adopted across the world since it's release in 2011. The Lubi uses 1 x 3-foot translucent glazing panels with a patented perforation design resulting in the worlds most efficient solar device according to Canadian Standards Association (CSA-International) certification tests. The system was recently certified in Germany, and is now exploding into European markets.
The project would not be possible without funding from the Renewable Energy Fund administered by NH's Public Utilities Commission.
In NH alone, there has already been close to 20,000sf of Lubi wall area installed or under contract, said Mr. Dunn. New Hampshire has a very unique opportunity for this technology right now, as the NH PUC has put its full support behind solar thermal and solar electric technologies with a very healthy 25% rebate program."
For further enquiries or information regarding the project, contact Shift Energy LLC at http://www.shiftnrg.com, phone: (207) 710-6116.
About UNH:
The University of New Hampshire, founded in 1866, is a world-class public research university with the feel of a New England liberal arts college. A land, sea, and space-grant university, UNH is the state's flagship public institution, enrolling 12,200 undergraduate and 2,300 graduate students.
About UNH Energy Office:
UNH has conducted an on-going energy efficiency program for over 30 years. Several million dollars have been invested in retrofit projects including high efficiency lighting systems, motors, and control systems. UNH generates and distributes its own power and heat from a combined heat and power plant, which uses processed landfill gas as its primary fuel source through a 12 mile pipeline known as EcoLine. For more information, visit http://www.energy.unh.edu, email at energy(at)unh(dot)edu or call (603) 862-2345.
About Shift Energy:
Shift Energy, Biddeford, Maine, is a commercial solar thermal company specializing in the sales, design and construction of solar hot air and solar hot water systems for facilities with large and constant fresh air or hot water requirements. Shift Energy is the distributor and manufacturers representative for Enerconcept Technologies. For more information, visit http://www.shiftnrg.com, email at info(at)shiftnrg(dot)com or call (207) 710-6116.
About Colby Company Engineers:
Colby Co. offers registered Professional Engineers in the Electrical, Mechanical, Fire Protection, Controls, Structural and Civil disciplines and Architecture. With registrations in 26 states,