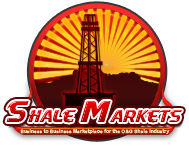 Pittsburgh, Pennsylvania (PRWEB) June 30, 2013
Shale Markets announces the launch of their Buyer Sourcing Application. The application services companies looking to get their products into the natural gas and oil industry.
Regions all over the United States are seeing oil & gas development because of the shale plays that lay beneath them: Monterey Shale, Bakken Shale, Marcellus Shale, Eagle Ford Shale, Utica Shale, Cline Shale, etc.
Shale Markets works with companies in these shale play regions to get their products into the supply chain of the oil and natural gas industry. The hydraulic fracturing or fracking industry offers many opportunities for businesses to work in the industry. The business opportunities are nearly endless, specifically in Upstream, Midstream, Downstream and Offstream.
In the wake of President Obamas speech, its clear that natural gas development is here to stay, Shale Markets allows small and large businesses to get their products into this industrys supply chain. RJ Pader, CEO Shale Markets
Shale Markets benefits companies in a couple different ways. First, it gives buyers the ability to save money. It also simplifies the process for buyers to find the product or service they are looking for. Shale Markets does the leg work for companies to find other companies to compete for their business while trying to get the lowest price.
This application is similar to a reverse auction, but it is more of a sealed bid process where a buyer will enter the specific information pertaining to the products or services they are looking to purchase. Our team will then reach out to those suppliers provided by the buyer as well as other similar providers in and out of our network. We will advise the suppliers of the posted Buy Request and will then work with the parties interested in participating in the bidding process to secure the business of the buyer.
The introductory annual rate for Shale Markets is $ 950.
Companies interested in advertising to a targeted market can purchase a banner ad placement a la carte for $ 75 per month. This service is included in the annual subscription. The Shale Markets website currently serves over 523,000 banner ad impressions per month.
Find More Natural Gas Press Releases