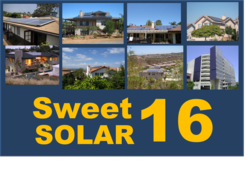 San Diego, CA (PRWEB) June 21, 2013
Solar installers, energy experts and home and business owners County-wide are invited to strut their sustainable stuff by nominating their favorite energy efficient and solar-powered homes and businesses to be among the 16 sites selected for the San Diego Renewable Energy Societys 13th San Diego Solar Tour.
Slated for the eve of the Autumnal Equinox (September 20-21), the two-pronged event features open house tours of energy-efficient homes and businesses that are bringing their owners ample economic and environmental rewards.
The tour introduces consumers to leading-edge solar and energy efficiency solutions that are improving property values, slashing energy costs and creating more efficient work and living spaces in a real-world, no-pressure environment that allows citizens to talk with installers and system owners about the solutions they are employing to hedge against rising energy costs.
With higher efficiencies, lower price tags, versatile new products and a treasure trove of tax and cash incentives, todays solar and energy efficiency solutions are as much an economic play as an environmental one, said PURE Solar Powers Jeff Konek.
And with a menu of new, zero-down and pre-pay financing options and the availability of commercial solutions like PACE (Property Assessed Clean Energy) financing in San Diego — the improvements showcased on this years tour are within reach of most any property owner, added Konek.
This years CNG bus-guided 2013 Commercial Tour for property owners, building and sustainability managers takes place on Friday, September 20 and will commence with a special behind-the-scenes tour of San Diego Gas & Electrics (SDG&E) Energy Innovation Center. Space is limited. The free, self-guided 2013 Residential Tour takes place on Saturday, September 21.
Applications for the San Diego Solar Tour are being accepted through July 31, 2013. Download tour host site and volunteer solar ambassador applications here or eMail SolarTour@sdres.org for details.
The 2013 San Diego Solar Tour is made possible by a County Neighborhood Reinvestment Program grant and a complement of sustainably-inclined sponsors and energy experts, including PURE Solar Power; ASI Hastings Heating, Air and Solar; SunUp Energy Systems; Photon Solar Power; FIGTREE Energy Financing; GRIDAlternatives; SolarRain Watery; Empower America; The East County Solar Guy; CleanTECH San Diego and SDG&E.
Sponsorship opportunities abound. Applications for volunteer Solar Ambassadors are also being accepted.
The Sweet 16 showcased on this years tour will be selected based on solution type, innovation, geographic location, architecture and the energy savings or production value of each structure. The impetus behind each participants decision to introduce solar and energy efficiency solutions also comes into play.
Residents and businesses with rooftop, building-integrated and terrestrial-mount solutions that manifest energy efficiency, geothermal, EV-PV, solar PV and solar water heating, cool roof and holistic zero net energy solutions are encouraged to apply.
Hosting sites on this years tour allows area homeowners to see first-hand the cutting-edge solutions available to help them live more comfortably and sustainably — while saving money on monthly energy bills, said Ken Justo of ASI Hastings Heating, Air and Solar, whose company is a 7-time recipient of the BBB Torch Award for Business Ethics.
With solar federal tax credits of 30% and an array of cash rebates and other energy-efficiency incentives, these investments can pay for themselves in very short order, Justo said. How many home improvements do you know of that pay for themselves, then continue to pay dividends for years to come?
Further contributing to the solar ROI illustrated during the tour is a study out of the University of California San Diego that finds roof-top solar panels dont just provide clean power, they shelter household rooftops, keeping them five degrees cooler in summer and warmer in the winter. This cuts down on year-round cooling *and* heating costs. The U.S. EPA reports in the Appraisal Journal that a homes value increases by $ 20 for every $ 1 decrease in annual electricity bills.
"These tours are a convenient way for folks to learn how today's solar and energy efficiency systems are employed at a variety of different sites, while speaking with licensed, qualified professionals who can educate them on installation processes and the many incentives today's solar PV, solar water heating and energy efficiency solutions deliver, said San Diego Renewable Energy Society Board Member and Photon Solar Power President Pekka Laine.
And its an effective way for contractors to harvest new business and keep San Diegos clean tech engine humming," added Laine. "You cant, after all, export an energy retrofit job or solar installation.
The San Diego Solar Tour is part of the American Solar Energy Societys National Solar Tour, the worlds largest grassroots solar event. Learn more at http://www.sdres.org.
ABOUT THE SAN DIEGO RENEWABLE ENERGY SOCIETY (SDRES): The non-profit San Diego Renewable Energy Society (SDRES) is a membership-based organization dedicated to increasing the intelligent use of renewable and sustainable energy technologies in San Diego County through education, advocacy, networking and the presentation of special events like the San Diego Solar Tour. SDRES is the San Diego Chapter of the American Solar Energy Society (ASES), the nationals first association of solar professionals and grassroots advocates.