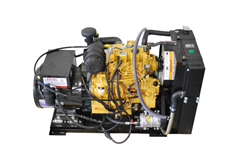 ALLIANCE, Neb., USA (PRWEB) May 20, 2013
Perrin Manufacturing an award-winning engineering firm specializing in the design, testing and building of heating, ventilation and air conditioning (HVAC) systems and auxiliary power units (APUs) for vehicles announced that a new system it recently designed for emergency response vehicles is rapidly gaining favor among fire departments in the U.S. and Canada. Perrin developed the system for Smeal Fire Apparatus Co, which markets it under the trade name SG-09 Smeal Green Auxiliary Power Unit.
The SG-09 was designed to address the growing demand among North American fire departments for smarter supplemental power generation and climate control systems that meet more stringent engine idling laws, reduce fuel consumption and lower maintenance costs.
In designing the SG-09, Perrin called upon its broad experience of designing and manufacturing HVAC and APU system for heavy-duty, off-road and exotic commercial work vehicles, which includes related products developed under its Tridako PowerCube APU brand. Perrins intelligent design allows the SG-09 to deliver a robust 9 kW of power and to handle a wide range of heating and cooling needs for the crew space while maintaining stable interior temperatures in the face of everything from desert sun loads to arctic wind chills.
We went to Perrin because they have world-class HVAC and APU engineering expertise and a successful track record with other leading OEMs, Joel Konecky, regional sales director for Smeal Fire Apparatus, said. The result of our collaboration is a particularly smart solution that operates automatically and independently, freeing firefighters to focus on the task at hand.
Unlike some fire apparatus-mounted APUs that require personnel to engage and disengage them, the SG-09 employs Smeals proprietary controller that automatically starts the system while shutting down and monitoring the chassis engine, starting it again if needed. There is no interruption of power or HVAC service, and the SG-09 can be manually started or stopped using controls conveniently located in both the cab and on the pump panel, even when the apparatus is in motion. The controls advanced user interface makes operating the system virtually effortless.
The SG-09 delivers the level of performance we were looking for, and it does so automatically, Buddy Caldwell, captain and fleet manager for Charlotte (NC) Fire Department, said. Now weve got the auxiliary power we need, our crew cabin environment has never been more controlled and were achieving it all while meeting emissions compliance and reducing our fuel and maintenance costs.
The Charlotte (NC) Fire Department recently took delivery of a number of SG-09-equipped vehicles, including four Smeal pumpers and three 105-foot Smeal aerials, and the department currently has more on order. Toronto (Canada) Fire Services now has six 105-foot Smeal aerials fitted with SG-09 APUs.
Smeals research indicates that chassis engines spend 55 to 75 percent of their time idling on fire apparatuses serving high-volume departments. When operating, the SG-09 uses only a quarter of the fuel of a chassis engine, significantly reducing nitrogen oxide (NOx) emission-related soot accumulation, and thus the frequency of power-depleting diesel particulate filter (DPF) regeneration. The units power plant carries an Environmental Protection Agency (EPA) rating of Tier-4, indicating the lowest emissions for its class. By quietly operating at only 75 dB under full load, the unit also does its part to minimize on-scene noise pollution.
As an ISO-certified designer and manufacturer of vehicle-based APU and HVAC systems, we specialize in assisting OEM s by engineering solutions to complex supplemental power and climate control challenges, Dan Koch, president and CEO of Perrin Manufacturing, said. We are excited and honored to be invited to bring our expertise to bear on this initiative for Smeal.
The new Smeal APU comes in two models. The SG-09 Parallel System features a completely independent HVAC system with a separate evaporator core and fan installed in the crew area. The SG-09CR Integrated System utilizes the chassis evaporator, fan and air conditioning controls and allows the vehicles air conditioning compressor to be mounted on the SG-09CR, freeing the chassis engine of the AC burden. With the augmentation supplied by the SG-09CR, fire companies can specify smaller engines and less expensive chassis, while achieving similar performance levels.
Additional information is available and can be obtained by contacting Perrin Manufacturing or by visiting: http://www.perrinmfg.com.
To access high-resolution images, please visit: http://www.perrinmfg.com/SG09_SMEAL_APU.html


END -
About Perrin Manufacturing, Inc.

With more than 35 years of award-winning experience, Perrin Manufacturing excels in custom designing dependable, high-performance supplemental power and climate control systems for on- and off-highway vehicles. Engineered by Perrin, the Tridako PowerCube APU is currently the only APU design on the market that undergoes and meets with Society of Automotive Engineer (SAE) certified J1503 testing. Perrins engineered designs are tested and built to strict SAE equipment performance criteria, complementing original equipment manufacturer (OEM) designs that enhance market attraction with optimum comfort and value. Perrin is ISO 9001:2008-certified, complying with worldwide certification standards and total quality management principles. For more information, please visit http://www.perrinmfg.com.
About Smeal Fire Apparatus Co.

Based in Snyder, Nebraska, Smeal Fire Apparatus Company is known throughout the U.S. and Canada as the premier manufacturer of aerial ladders, platform aerials, urban interface, and pumpers. Since 1964, Smeal has been proud to be part of the fire and rescue industry, producing the finest apparatus available to get the job done safely and efficiently. For more information on, please visit http://www.smeal.com.
SG-09 Smeal Green Auxiliary Power Unit is a trademark of Smeal Fire Apparatus Co.

Tridako and PowerCube Tridako PowerCube are trademarks of Perrin Manufacturing, Inc.
Related EPA Press Releases