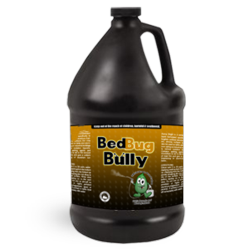 New York, NY (PRWEB) May 20, 2013
With bed bugs' presence come problems in various terms. However, My Cleaning Products said that although bed bugs need to be eliminated, one must make sure that the bed bug elimination process will not compromise a person's health. And so to help bed bug sufferers get that done, it posted a guide how to get rid of bed bugs without using harmful pesticides. In it, the company also recommended its non-pesticide bed bug spray it called Bed Bug Bully.
According to My Cleaning Products, contrary to what many think, bed bugs are not serious threats to health. They don't transfer illnesses, it said. Despite that, it stated that they could still negatively affect a person's wellness by causing embarrassment, anxiety, paranoia and possible infection due to scratching of bed bug bites.
To avoid all of those, MCP said that bed bug elimination is needed. However, as it emphasized, the process must be safe. Else, it will bring more problems than resolve them, it said.
Of all the bed bug treatment methods one could implement though, the company recommended the use a bed bug spray. Nonetheless, it specified that it should be a non-pesticide bed bug spray.
The company shared that over the years, bed bugs developed harder exoskeleton and adjusted their metabolism to resist common pesticides. The use of conventional bed bug spray is therefore, not effective against the pests, it concluded.
Instead of them, My Cleaning Products stated that it's much better for bed bug sufferers to use Bed Bug Bully. It considered the product as a discovery on how to get rid bed bugs safely.
As the company explained, Bed Bug Bully is a pesticide-exempt bed bug spray classified by EPA under FIFRA 25(b). Because it does not contain the chemicals to which bed bugs had developed resistance for, it said that one could rest assured that it is effective. Moreover, because it is organic-based, it ensured that it is safe for health.
Being a spray solution, MCP stated that Bed Bug Bully also offers the standard benefits of conventional bed bug sprays. It said that it also makes the bed bug treatment process easy, fast and inexpensive.
For anyone who wants to test the product, the company detailed that Bed Bug Bully Complimentary Samples are available at MyCleaningProducts.com.