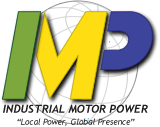 Burbank, CA (PRWEB) May 31, 2013
IMP announced today further expansion of its supply of Caterpillar Generator Sets with the inclusion of additional Caterpillar G3516 and Caterpillar G3520 units into its existing inventory.
The company stated the inventory augmentations reflected recent increases in market activity for generator sets globally and for natural gas units specifically. Supplementing its inventory with Caterpillar's G3516 and G3520 generator sets offer their customers a natural gas solution for large scale power generation for multiple land based applications.
IMP is a global provider of wholesale power generation equipment to both the retail and reseller markets. Possessing more than 35 years of industry experience, the company maintains both owned inventory as well as a network of suppliers that enables it to service the dynamic power generation needs of multiple industries, government agencies and individual companies around the world.
Please visit http://www.impcorporation.com/company/news for more information, news and related data about IMP. If you have further questions, please direct inquiries via email to the public relations department directly at marketing(at)impcorporation(dot)com or contact us directly by telephone at (323) 268-3380.
###