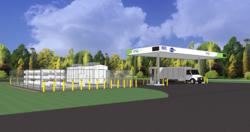 Saratoga Springs, New York (PRWEB) June 24, 2013
Try-It Distributing and American Natural Gas, LLC (ANG) are working together to bring a heavy duty compressed natural gas (CNG) fueling facility to Walden Ave in Lancaster, New York. Try-It selected ANG as their partner for the facility after an extensive RFP process. We are very excited to work with ANG, a New York based company, to fuel our fleet as well as bring public CNG fueling capabilities to the Lancaster and surrounding areas, said Jeff Gicewicz, Vice President of Corporate Holdings of Try-It Distributing Company and Subsidiaries. By utilizing CNG for their fueling needs, Try-It remains on the cutting edge of the beverage distribution industry, continuing to become more sustainable. Additionally, Try-It will displace over 120,000 gallons of diesel annually.
American Natural Gass and Try-Its Lancaster CNG facility is another small step toward ANGs mission of making natural gas readily available for commercial and public use in vehicles. Drew West, Founder and CEO of American Natural Gas said, We continue to help expand the US fueling infrastructure network in a manner that is not only best for our clients, but for the consumer as a whole. In addition to fueling Try-Its fleet, the facility will allow other area fleets and consumers access to CNG for their fueling needs. Interested fleets can contact ANG to inquire about preferred fuel rates.
The heavy duty, public access CNG fueling station will be open 24 hours a day, seven days a week and will be located at 4155 Walden Ave in Lancaster, New York. It will offer a variety of payment methods such as Visa, MasterCard, Wright Express and Comdata. Additionally, twin 200 horsepower compressors and significant storage will allow the facility to handle a large fuel load. The anticipated station launch date is December 31, 2013.
About ANG:
American Natural Gas (ANG) is a premier distributor of alternative motor fuels in the Northeast. ANG designs, builds, owns, operates and maintains natural gas fueling stations for transportation. The mission of American Natural Gas is to help America by making natural gas readily available for commercial and public use in vehicles. ANGs team of industry, legal, construction, engineering and entrepreneurial experts is committed to changing America. With more than 20 years of industry experience, ANG will provide the best solution possible to meet and exceed your CNG fueling needs.
About Try-It:
Try-It Distributing is a family owned beverage wholesaler that has been rooted in Western New York since 1928. Serving all of Erie and Niagara Counties, Try-It distributes the full line of Anheuser-Busch Beers, Labatt Beers, along with many craft and import beer varieties. Try-It is located in Lancaster, New York.