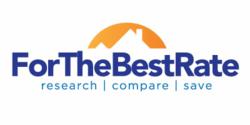 Wilmington, NC (PRWEB) April 22, 2013
Mortgage rates for fixed rate programs were down on average this week reports mortgage rate research website, ForTheBestRate.com, continuing a period of availability of extremely low cost home financing for qualified home owners and buyers. On Friday, April 19th, 2013 30 year fixed mortgage rates as low as 3.125% (APR: 3.204%, Points: 1.000, Fees in APR: $ 0, Lender: Online Mortgage Group) were advertised in the rate tables on the website. 15 year fixed rates were posted as low as 2.500% (APR: 2.500%, Points: 0.000, Fees in APR: $ 0, Lender: American Financial Resources,) and 5/1 ARM interest rates as low as 2.250% (APR: 2.541%, Points: 0.000, Fees in APR: $ 995, Lender: American Mortgage Advisors Corporation) were advertised.
The weekly survey of mortgage rates released by Freddie Mac, a government sponsored enterprise and purchaser of mortgage loans on the secondary market, on Thursday, April 18th, 2013 also showed the fall in pricing. The data indicated that 30 year fixed mortgage rates dropped to an average of 3.41% (0.7 points), down from 3.43% (0.8 points) the week before. 15 year fixed rates were also down just slightly on average to 2.64% (0.7 points) from 2.65% (0.7 points) one week earlier. 5 year adjustable rate pricing moved lower to 2.60% (0.5 points) on average, down from 2.62% (0.5 points.)
Only 1 year adjustable rates were higher this week, averaging 2.63% (0.4 points), up a small margin from the 2.62% (0.3 points) average one week before.
"This latest dip in rates is excellent news for those currently in the home buying process," commented Shaun Hamman, VP of Residential Lending at American Financial Resources, a National mortgage lender. "It can often take buyers some time to find the right home and negotiate a contract once the decision is made to purchase real estate. Large rate fluctuations can add stress to the whole operation, making the current low rate environment particularly attractive," he continued.
Below is a snapshot of interest rates for a variety of programs listed on 4/19/13 on ForTheBestRate.com. Atlanta, GA mortgage rates represented in this survey. Rates are subject to change. Please visit the site to view the criteria used in the survey.
30 Year Fixed Mortgage Rates

Lender Fi – 3.125% Note Rate, 3.302% APR, 1.000 Points, $ 1990 Fees in APR

Home Loan Advisors – 3.250% Note Rate, 3.303% APR, 0.000 Points, $ 1095 Fees in APR
15 Year Fixed Mortgage Rates

Anchor Funding Corporation – 2.500% Note Rate, 2.500% APR, 0.000 Points, $ 0 Fees in APR

Roundpoint Mortgage Company – 2.500% Note Rate, 2.500% APR, 0.000 Points, $ 0 Fees in APR
10 Year Fixed Mortgage Rates

American Mortgage Advisors Corporation – 2.375% Note Rate, 2.399% APR, 0.000 Points, $ 195 Fees in APR

Online Mortgage Group – 2.375% Note Rate, 2.375% APR, 0.000 Points, $ 0 Fees in APR
5 Year Adjustable Rate Mortgage Rates

Loan Depot – 2.625% Note Rate, 2.660% APR, 0.500 Points, $ 0 Fees in APR

Anchor Funding Corporation – 2.750% Note Rate, 2.664% APR, 0.000 Points, $ 674 Fees in APR
About ForTheBestRate.com

ForTheBestRate.com is a website that offers information regarding mortgages, insurance, and personal finance. ForTheBestRate.com is owned by CMG Equities, LLC based in Wilmington, North Carolina.

###