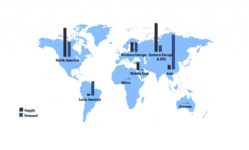 Vancouver, BC (PRWEB) May 24, 2013
May 24, 2013 (Financial Press) – Brazils agricultural revolution has continued to roll onward. As the rapidly rising BRIC country ramps up its export output, so too does it increase its demands for fertilizer feedstock, as it currently sits as the third largest importer of potash (KCl) in the world.
It is through this realization that it seems that a revolution is taking place domestically within Brazil in order to keep its own costs down.
Canadian-based company Pacific Potash [PP TSX.V, PPOTF OTCQX, P9P Frankfurt] foresaw this expansion in Brazilian potash development, and seized an opportunity to acquire an interest in 90 mineral exploration licenses for an aggregate total of 795,824 hectares within Brazils Amazonas Basin, which geologically is the cousin of Canadas Saskatchewan Potash Basin. Unlike Saskatchewan, however, the Amazonas is critically underexplored in comparison, with an enormous upside illustrated by historic resources accidentally discovered decades ago by oil and gas giant PetroBras.
Now more than 30 years since the Amazonas potash discoveries, potash demands worldwide are far higher than before. Development of potash mining infrastructure elsewhere has benefitted producing regions such as Canada, Russia and within the Middle East. However, a current slump in potash prices has put pressure on producers to find and innovate new ways to stay economic despite price pressures. Pacific Potash, as well as its privately-owned neighbours in the Amazonas believe that they can remain economical by providing closer-to-market supplies, and eliminating much of the high costs of importation for their buyers.
For each ton of potash that Brazil brings in, there is a shipping cost attached that effects the bottom line. For the supplies coming from Canada, Russia and the Middle East, it costs an additional $ 175-$ 225 per tonne(?) to ship in the product. Those costs are passed along to the Brazilian farmer, and to the Brazilian agricultural community in an almost exponential fashion. So, even while potash is currently in a price slump, ranging between $ 450-$ 500 per tonne right now, any sort of development for a project in Brazil, and specifically in the Amazon Basin has relatively large upside potential, and attractive economics.
THE AMAZONAS POTASH BASIN

Despite the fact that there hasnt been any production out of the basin to-date, there are in place some historic resources of significance. This area has always been a prolific oil and gas basin, and its not unheard of to find potash near oil and gas deposits.
Brazilian oil and gas giant PetroBras has been drilling into this basin since the early 1960s, to the tune of thousands of oil and gas wells. Most of these wells have been confined to the margins of the basin, however there hasnt been much drilling in the center. Much like in Saskatchewan, its nearer to the center of a basin that would be more appropriate for potash exploration, as this is where the KCl tends to accumulate.
When Petrobras began intercepting potash in the early 60s, it was because they were drilling in the margins of the basin. In 1980, the company stumbled across a couple of larger potash deposits, which combined have historic resources of about 1.1 billion tonnes .
Thus, today, there is in place a very large resource of fairly high-grade potash (between 25-30% KCl), which is quite comparable to the figures witnessed out of Saskatchewan.
Strangely enough, this discovery of high-grade potash didnt gain much traction among the investment community for the next 30 years, until now. With a booming agro sector, the game is different, complete with new demands and economic drivers.
PACIFIC POTASHS AMAZONAS BASIN PROPERTY

As the only publicly-traded company in the region, Pacific Potashs property is nestled next to two private companies. These include Potash Brazil, which is gearing up to finance towards production in the relatively near future.
Infrastructure wise, what Pacific is sitting on is enviable for much of the Amazon region. The river itself is seen as a super highway for the shipment of goods. Most, if not all trade is conducted on the water. At the moment there is not much for road or rail, however, each city will have a port to handle its needs.
The closest major city to Pacifics property is Manaus, which is home to a population of 2.2 million. Previously known as the rubber capital of the world, Manaus is a cultural epicenter of its region, and is a hub for a plethora of economic activity.
This image came about after the fall of the rubber industry, after the advent of synthetic rubber. At one time the city had a population of 3.5 million people, but dropped down to 300,000 after the advent of synthetic rubber. Brazils government reacted by making the Manaus Amazon State into a free trade state, which it remains to this day.
As a business environment, this may be Brazils best kept secret. With no taxes, nor tariffs to deal with, companies are free to spend money and work unabated. Pacific plans to capitalize on this distinction, by pumping money in to the development and exploration of the property, en route to hopefully making a discovery.
Near Pacifics property is a 500kW power line that connects Manaus to the Brazilian power grid, running just to the north. Also to the north is a Petrobras Gas field to the north thats been flaring off natural gas for many years, as well as 3 Handimax ports in close proximity, including the third largest agricultural shipping port in the nearby city of Itacoacheria, which is one of the main soybean export hubs on the continent.
Products are barged in from many of the farming states to this port, and loaded onto ocean going vessels to be shipped out to the export markets. Many of these barges are currently being returned empty, which could be used to ship fertilizer products to the local processing plants. Brazil already has plants capable of processing raw potash, phosphate and nitrogen to be made into a usable fertilizer blend.
The region provides a closed-circuit synergy that allows Pacific Potash to strive for a full country play, delivering to the growing agro markets on the rise. The plan is to develop a relationship with the nearby ports found across the river from the property, and potentially directly across from where the company plans to drill.
Since Manaus is set to be a satellite city for the World Cup of Football in 2014, the city has been generously given plenty of capital destined for infrastructure improvements. Along with a new stadium, there have also been plenty of roads built, one of which is actually quite close to Pacific Potashs property. This has made accessibility for the project much better, with roads and airstrips in each of the five cities with 50,000-100,000 or more people that are within Pacifics large land base.
FRIENDLY NEIGHBOURS

Most important through all this has been the rapid development of neighbouring company Potash Brazil. The well-funded private company in the basin is looking to come out with an early-stage resource report by the end of the month. Along with Potash Brazil, there is one other private company in the region, making for a total of three companies with stakes in the play. Pacific Potash presents a unique opportunity for investors, as its the only one in the Amazon Basin thats publicly traded.
Apparently Potash Brazil is cashed up and ready to roll, it is a Forbes and Manhattan deal, rumoured to have raised in the neighborhood of $ 150 million. They are pursuing a listing on the BOVESPA exchange slated for Q1 2014, as they are looking to raise the billion dollars necessary to put their mine into production.
For Pacific Potash, any news pertaining to Potash Brazil, helps Pacifics cause. With each new step forward, the possibiliti