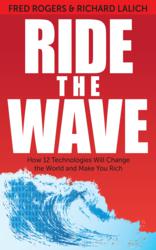 Chicago, IL (PRWEB) June 03, 2013
Millions of Americans are still searching for work, but a new source of jobs is just over the horizon or, literally, under our feet. According to the new book Ride the Wave, a major revolution in American energy will boost the economy and create 21.8 million jobs.
This news couldnt come at a better time for the 1 in every 13 Americans who is struggling to find a job. According to the latest figures from the U.S. Bureau of Labor Statistics (BLS), 11.7 million Americans are unemployed. That doesnt count the 10 million underemployed people who have one or more part-time jobs but want full-time employment.
Even as the economy shows signs of strength, most companies arent hiring. During the recession, businesses figured out how to use fewer employees and new technologies to get more work done with smaller payrolls. The result is what economists call a jobless recovery a rare situation in which the economy gets better, but jobs remain scarce.
The only solution will be a new technology that creates new jobs and, fortunately, that is exactly what will happen, according to the expert economic forecasters behind Ride the Wave.
Harvard-trained economic strategist Fred Rogers says, Today's economic pessimism is rooted in a myopic misunderstanding of technology, business, and history. Every time things get bad, as they did in the 1930s, the 70s, or the current decade, the conventional wisdom jumps to the conclusion that we've entered a permanent era of decline. But that's never been true, and it's not true today.
According to Rogers and his colleague Richard Lalich, The biggest story of our time is the current North American Energy Revolution. By tapping North Americas vast reserves of shale gas and other resources clearly explained in the book, the U.S. will avoid energy shortages and end its dependence on foreign oil producers.
Beyond that, the energy revolution will transform the economy by putting Americans back to work. That includes not just the people who will be hired to fill the new jobs in the energy industry, but all the people who will be needed in a variety of supporting industries.
By 2020, Rogers and Lalich estimate that the revitalized energy industry will create the following increases in net new jobs: