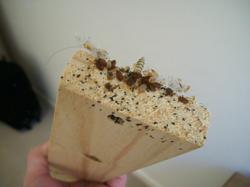 South Burlington, VT (PRWEB) June 21, 2013
A Vermont federal office was hit by bed bugs. It was reported by wcax.com on June 13, 2013 that it was inspected for the pests on Wednesday. However, for the elimination of the critters, My Cleaning Products said that the use of the bed bug spray Bed Bug Bully is the best method to implement. It offered complimentary samples of it to prove its assessment.
According to the report, it was specifically the Vermont Service Center that was scourged by bed bugs, My Cleaning Products shared. It detailed that this recent infestation was actually the third time for the center since April.
The report stated that the office's employees were the ones who informed wcax about the bed bug problem, MCP said. But apart from the infestation itself, it added that some of them were also upset that they were expected to work even in areas likely infested.
Here's a part of the post Bed Bugs Plague a Vermont Federal Office by My Cleaning Products.
The employees of Vermont Service Center are puzzled. Their question who brought the bed bugs in their office?
"According to the federal office's employees, their building was inspected on Wednesday. During which, a number of chairs and filing cabinets were moved out.
"However, it wasn't the first time that bed bugs were sighted in the center. Actually, the most-recent bed bug inspection was already the third one implemented on the building.
MCP relayed that the source of the infestation in Vermont Service Center was never determined. Considering that bed bugs are very good hitchhikers and that there are more than a thousand of people going in and out of the place, it commented it is indeed an impossible feat to trace who brought the pests in the federal office.
However, it stated that the elimination of bed bugs is the opposite of it. It is definitely possible to get rid of those pests, it said. And to prevent them from growing in number and spreading wider, it asserted that the treatment must be prompt among others.
Among all the methods though, My Cleaning Products only advised the use of a bed bug spray. And of all the bed bug sprays, it only recommended Bed Bug Bully.
With it ready, it explained that anyone could kill bed bugs fast and easy. Given that Bed Bug Bully is also organic-based, it added that one could make the whole process safe with it. In fact, it shared that EPA has already accepted as pesticide-exempt under FIFRA 25(b).
To test the product, My Cleaning Products encouraged the public to try its Bed Bug Bully Complimentary Sample available at MyCleanngProducts.com.