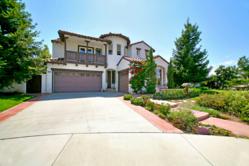 San Clemente, CA (PRWEB) August 12, 2012
A San Clemente, California panoramic view home on 1/3 acre has just been listed by San Clemente real estate Agent Sam Smith. The home is located in the Ridgemore San Clemente community in the Forster Ranch area. Classic mediterranean style architecture on a premium over sized 13,000 square foot + lot, ideal for growing kids and for those who like to entertain. Homes in the immediate area are two story homes located on lots less than half this size. At the time the homes were being built in the area this lot was the most sought after land in the entire community. Now the home is being offered for sale for $ 825,000 by Sam Smith of Beach Cities Real Estate.
The Forster Ranch area of San Clemente is one of the very best places to find newer built homes in the Spanish and Mediterranean style with modern house interiors and nice community amenities. The area is home to many luxury communities where homes were built from the early 1970′s to more modern homes that have been constructed in the last 10 years. Forster Ranch is considered one of the best values when looking for a home in San Clemente from smaller ranch style home to a larger estate home. Home prices in Forster Ranch start at $ 500,000 for your basic 3 to 4 bedroom single level home.
San Clemente Realtor Sam Smith is a hyper local agent who knows the San Clemente marketplace better than anyone. Sam educates buyers on the many different areas within San Clemente including the newer neighborhoods in the Talega & Forster Ranch area. Home prices have really come down in the last 18 months and buyers are taking advantage of the low real estate prices and interest rates. For the first time it has become cheaper to buy a home in some areas of San Clemente than to pay rent. For additional information on San Clemente Real Estate simply go to http://www.sanclementerealestate.com or call 949-291-0424 today.