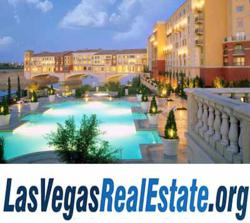 Las Vegas, NV (PRWEB) August 28, 2012
Lake Las Vegas real estate for sale remains one of the most controversial opportunities as buyers and investors debate the future. Tucked away in a picturesque canyon 17-miles from the Las Vegas Strip is a large 320 acre man-made lake. The Lake community is surrounded by a European-style local village with shopping, casinos, three golf courses, restaurants and some of the best real estate bargains for luxury homes and condos in America. Lake Las Vegas homes and condo were at 20-year lows just 12-months ago and now seeing a dramatic rebirth in interest.
Ashley McCormick of Realty One, Nevada's leading Las Vegas real estate company, says Lake Las Vegas homes and for sale may be most overlooked community for real estate investors due to location. According to McCormick bargain prices on properties in that area have increased tremendously over the last few years due to bank owned foreclosures. Lake Las Vegas real estate market trends may see an additional pick up as foreign investors become educated on the development.
John Paulson, a famed hedge-fund manager, has bought more than 875 acres of undeveloped land paying $ 17 million for the Lake Las Vegas real estate opportunity. The deal adds to his portfolio of real-estate assets and marks the latest vote of confidence that the U.S. housing market and Las Vegas properties are on an upswing. This prime real estate community has become a haven for individuals and families who want to enjoy the freedom and security of raising a family away from the Las Vegas strip but still enjoy the winter climate, shopping, dinning and entertainment of Vegas.
12-months ago in August of 2011, Las Vegas real estate agent Ashley McCormick published an article predicting that Lake Las Vegas would start to re-emerge as the buyers drawn to the affordable Las Vegas real estate prices became educated about the area. McCormick was training for a triathlon which allowed her to swim the lake, bike the community and run the trails. At that time Lake Las Vegas condos for sale were starting at $ 39K, as of the writing the lowest price is $ 69K.
McCormick predicts that Lake Las Vegas real estate prices will start to continue to increase over the next 12 months as the new buyers share the community with visiting friends and family. Some buyers are buying to hold for vacations as the amenities surrounding these Lake Las Vegas condominiums are not much different than those found in the environment of luxury Las Vegas high rise condos. Investors or interested home buyers can contact Ashley McCormick for more information at 1-702-523-0916. Las Vegas homes for sale thru the MLS are available online at http://www.LasVegasRealEstate.org.