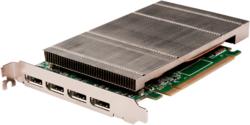 Derby, Derbyshire (PRWEB UK) 30 May 2013
Datapath Ltd, the Derby-based innovator of computer graphics, video capture and video wall display technology, today announced the general availability of the new ImageDP4 graphics card. Datapath also announces the release of the DisplayPort accessories DPextend and DPadapt, to enable long cable runs for larger video walls.
ImageDP4 Description and Features:
The ImageDP4 combines a single, powerful graphics processor with enhanced memory and PCI Express bandwidths to provide responsive performance at up to double the resolution of previous Datapath graphics cards.
Advanced display technology allows up to 16 ImageDP4 graphics cards to be supported by the Datapath display driver, providing a high resolution Windows