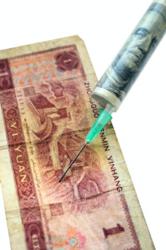 New York, NY (PRWEB) September 22, 2012
Michael Lombardi, financial expert and lead contributor to Profit Confidential, reports that China, the second largest economy by gross domestic product (GDP) in the world, continues to show a deepening economic slowdown; and according to Lombardi, there is now another obstacle for the Chinese economyinflation.
Inflation in the Chinese economy has become an issue that could escalate in economic problems for the country, notes Lombardi. The Consumer Price Index in China rose by 2.0% in August 2012 from August of last year, the big problem is food pricesthey rose 3.4% in August from August 2011.
In the article Perfect Economic Storm for China: Slow Growth and Rising Inflation, Lombardi states that if inflation in China keeps rising, the governments intentions to ramp up the economy with monetary stimulus could be tempered.
Lombardi recalls the events of 2008, when attempts to boost the Chinese economy resulted in higher-than-expected inflation and a bubble in real estate prices.
According to Lombardi, Chinas central bank has already cut interest rates in both June and July to promote economic growth. However, Lombardi observes that the improvements from these rate cuts in the Chinese economy are yet to be seen.
According to Lombardi, Chinese industrial output rose by only 8.9% in August compared to 9.2% in Julythe lowest growth since the May of 2009. Chinese exports are still in a slump, he adds, noting that they have only grown by 2.7% in August, compared to one percent in July.
The increase doesnt amount to much when last year the export growth rate was over 20%, Lombardi points out.
Lombardi concludes by stating that any economic slowdown in the Chinese economy will affect the U.S. economy: With the U.S. becoming one of the biggest export markets for China, the question arises: is the U.S. economy growing enough to give China the export market lift it needs to grow? The answer is: of course not.
Profit Confidential, which has been published for over a decade now, has been widely recognized as predicting five major economic events over the past 10 years. In 2002, Profit Confidential started advising its readers to buy gold-related investments when gold traded under $ 300 an ounce. In 2006, it begged its readers to get out of the housing market… before it plunged.
Profit Confidential was among the first (back in late 2006) to predict that the U.S. economy would be in a recession by late 2007. The daily e-letter correctly predicted the crash in the stock market of 2008 and early 2009. And Profit Confidential turned bullish on stocks in March of 2009 and rode the bear market rally from a Dow Jones Industrial Average of 6,440 on March 9, 2009, to 12,876 on May 2, 2011, a gain of 99%.
To see the full article and to learn more about Profit Confidential, visit http://www.profitconfidential.com.
Profit Confidential is Lombardi Publishing Corporations free daily investment e-letter. Written by financial gurus with over 100 years of combined investing experience, Profit Confidential analyzes and comments on the actions of the stock market, precious metals, interest rates, real estate, and the economy. Lombardi Publishing Corporation, founded in 1986, now with over one million customers in 141 countries, is one of the largest consumer information publishers in the world. For more on Lombardi, and to get the popular Profit Confidential e-letter sent to you daily, visit http://www.profitconfidential.com.
Michael Lombardi, MBA, the lead Profit Confidential editorial contributor, has just released his most recent update of Critical Warning Number Six, a breakthrough video with Lombardis current predictions for the U.S. economy, stock market, U.S. dollar, euro, interest rates and inflation. To see the video, visit http://www.profitconfidential.com/critical-warning-number-six.