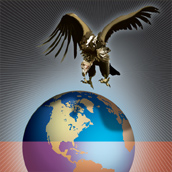 (PRWEB) September 12, 2012
In the just released 2nd edition of "Light in a Dark Place," economics writer Darryl Robert Schoon points to a series of secret unrecorded transactions between the Federal Reserve and the Bank of New York involving $ 240 billion of off-balance sheet covertly-issued bonds as key to understanding 9/11.
According to Schoon, the Bank of New York is at the center of suspicious activity involving hundreds of billions of dollars of securities cleared in the five days after 9/11.
In the first edition of "Light in a Dark Place" (a collection of prison writings), Schoon tells the story of Howard Hughes former banker. The story involves the White House skim of $ 500 million the banker had solicited from the Saudi royal family for the Afghan resistance.
The $ 500 million was later discovered in the Swiss bank account controlled by an Israeli-Swiss banker who owned the Bank of New York. The new information contained in the 2nd edition of "Light in a Dark Place" reveals the Bank of New Yorks involvement with 9/11. These revelations turn "Light in a Dark Place" from a collection of prison stories into a blockbuster book revealing the hidden motives behind 9/11.
Darryl Robert Schoon is best known for writings on the economic crisis and for his book, "Time of the Vulture: How to Survive the Crisis and Prosper in the Process" (3rd edition, 2012) in which he predicted real estate prices would fall 40-70%, financial markets would collapse and the price of gold would double and triple.
Darryl Robert Schoon has given talks on the economic crisis in the US, Europe and Australia. He has a global following (66% of his readers are US-based, 33% are global). His news site, Moving Through the Maelstrom with Darryl Robert Schoon, keeps readers current on the unfolding crisis and current events, providing a sense of stability and direction in uncertain times.