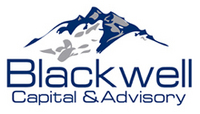 Atlanta, GA (PRWEB) July 31, 2009
Blackwell Capital & Advisory offers first-of-its kind, loan facility financing solution for small businesses, announced today that it is open for business and accepting loan applications. The company has entered into an agreement with a lender to offer business loans up to $ 100,000 to small businesses. The loans are based on business performance, rather than the personal credit history of the business owner. Businesses are not required to pledge assets like traditional types of loans to receive financing. Blackwell Capital & Advisory is working to help business keep their doors open, by bringing capital to main street, for businesses that may not have access traditional bank financing.
"Small businesses drive our economy, through innovation and job creation which sustains our communities," 'said David Adams chief executive officer", Blackwell Capital & Advisory. Even in an economy where liquidity was not an issue many small businesses were unable to get traditional financing as result, many leverage their business loans with the use of personal credit cards, family money or personal and home equity lines of credit to finance their business.
Unfortunately, even with the government's efforts to provide liquidity to the markets, the America's Recovery Capital Loan Program (ARC), and several economic stimulus packages, access to capital on main street is still a major challenge for most small business owners, leaving many in a vulnerable state.
"Small businesses are struggling, and finding hard to access to capital, banks that have lent to them in the past unfortunately, have been rocked in this rescission", due to mortgage, credit card, commercial loan defaults, in addition banks have had to increase lost loan reserves, to prepare for expected future loan losses, which is stiil to come", "said David Adams chief executive officer", Blackwell Capital & Advisory.
According to data compiled by the Service Employees International Union (SEIU) Bank of America Corp., During FY 2007 (October 2006-September 2007), BofA gave out 10,878 SBA 7(a) loans worth $ 336 million. But during the 12-month period between May 2008 and April 2009, those numbers plummeted to just 484 loans worth $ 20 million. CIT Group, a major SBA lender who just avoided bankruptcy made $ 770 million in SBA loans last year, but only $ 59 million between October 2008 and May 2009″.-source By FRANK BASS and RITA BEAMISH Associated Press-Sun Jul 26, 2009.
According to the National Small Business Association 2009 Mid-Year Economic report, access to capital continues to be a major issue in the small-business community. Sixty-eight percent of owners surveyed, were subject to decreases on their lines of credit or credit cards, or had terms worsen on their credit cards, for some credit lines were cut off.
The launch of Blackwell Capital & Advisory addresses the challenges facing small businesses across the country that lack adequate access to traditional bank financing. Now business owners can access quick business financing, to grow and build their companies.
Businesses that have been open for at least one year can learn more and apply online at http://www.blackwelladvisory.com/lending_on_board.html or by phone at 877-733-6058. In most cases, we provide a decision within two business days and businesses receive funding within five business days.
About Us:

Blackwell Capital & Advisory is a boutique advisory & consulting firm based in Atlanta Georgia, that is industry-focused in the fields' of business advisory, business lending, transactional structures and restructuring to help small to mid size business meet the challenges and opportunities of growing into profitable, viable companies. Through our lending partnership, millions of small business can gain access to fair price capital when they need it. For more information, please visit: http://www.blackwelladvisory.com.
Contact:
Mathew Blackwell, 404-733-6058

Blackwell Capital & Advisory

Fax: 404-393-7075

Email: marketoperations(at)blackwelladvisory.com

http://www.blackwellca.com
# # #
Related Loan Loss Press Releases