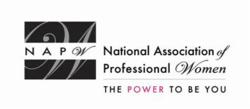 Garden City, NY (PRWEB) February 05, 2013
Members and guests of the NAPW Bowie, MD Local Chapter gathered on January 22nd for a professional networking event at the Old Bowie Grill.
The theme of the meeting was Fiscal Cliff: What it Means to You and guest speaker, Jo-Anne Williams-Barnes, C.E.O. of JFW Accounting Services, was on hand to give the group of professional women expert facts and tips to get them through the upcoming tax season.
The NAPW Bowie Chapter meeting was kicked off by Chapter President Marilyn Thorpe at 6:45pm. Marilyn welcomed NAPW members and guests and introduced the Chapter Board: Marcella Mollon-Williams, Vice President; Melissa Lee, Secretary; and LaTaunya Howard, Event Planner & Social Chair. Marcella led the introductions by asking all of the attendees to provide their names, their businesses/professions, and one thing they plan to accomplish in the first quarter of 2013. Melissa Lee provided an update on Board activities, which included an overview of meeting themes for the 2013 calendar year. Marcella introduced the guest speaker to the crowd.
The theme of the meeting this evening is Fiscal Cliff: What it Means to You. To give us some insight into what is meant by fiscal cliff and also to talk about the latest tax laws, we have with us tonight as our guest speaker, Jo-Anne Williams-Barnes, C.E.O. of JFW Accounting Services, said Marcella as she introduced Ms. Williams-Barnes to the group of professional women.
Ms. Williams-Barnes is the Chief Executive Officer of JFW Accounting Services, a professional certified public accounting firm offering a wide variety of tax and accounting services to individuals, small businesses, and not-for-profits, fulfilling their immediate and growing financial needs.
The guest speaker immediately engaged the attendees by explaining what the fiscal cliff was and why it created so much anxiety leading into the New Year. Ms. Williams-Barnes provided a summary of the American Taxpayer Relief Act, which included details on the changes or extensions related to the ordinary income tax rate, capital gains and qualified dividend rates, employees share of payroll taxes, alternative minimum tax exemption, phase out of personal exemptions and limits on itemized deductions, credits and deductions, estate, gift, and generation skipping transfer, and business credits.
In addition, Ms. Williams-Barnes provided updates on the 2012 standard deductions and exemptions, as well as standard mileage, said the Chapter President. She interacted with the audience throughout her presentation, welcoming questions and providing answers and tips related primarily to business owners. Everyone agreed it was a thoroughly informative and relevant presentation.
A few of Ms. Williams-Barnes helpful tips to business owners included: 1) file federal and state returns quarterly to reduce the burden of annual filing; 2) keep accurate records/receipts to ensure a clean audit trail; 3) maintain records for seven years just in case of an audit; 4) maintain accurate business mileage to avoid ambiguous records; 5) use a scanner to create electronic documents to assist with organizing records; 6) file paper documents by month to assist with organizing records; and 7) startup businesses should open a separate business account immediately to avoid commingling of personal and business funds.
The Chapter President concluded the meeting by reviewing the many benefits of a NAPW membership, including the discounts offered and the networking opportunities. Marilyn then confirmed that the next Bowie Local Chapter meeting would be held on Tuesday, February 26th and the meetings theme would be dedicated to womens heart health to commemorate American Heart Month.
We are encouraging all members and guests to wear red to our February Chapter meeting, said Marilyn.
The meeting attendees included: Jo-Anne Williams Barnes, Elsa Smith, Michelle Wiseman, Renee Fletcher, Wanda Robinson, Pamela Green, Chereace Richards, Divya Selvakumar, Angela Sanders, Candice Camille, Sandy Pruitt, and Bonnie Peet.
The National Association of Professional Women (NAPW) is the largest and most recognized network of female professionals. NAPW provides a forum where women can interact, exchange ideas, educate, network, and empower. NAPW Local Chapters allow members to maximize their experience through meetings, networking opportunities, and professional events.
For additional information regarding the NAPW Bowie, MD Local Chapter and/or NAPW, please visit http://www.napw.com.
Follow NAPW on Facebook and Twitter.
###