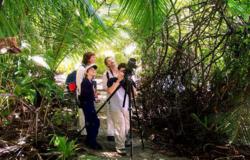 Manuel Antonio, Costa Rica (PRWEB) February 06, 2013
Moxieguide is a new collaborative travel and tourism directory and traveler review site for specific tourist destinations in Costa Rica. Moxieguide.org has launched in Manuel Antonio with expansion planned for the Tamarindo, Flamingo, Jaco and Escazu areas. The site is live for Manuel Antonio and expected to expand throughout Costa Rica in early 2013.
Each business or service listing will be created by an area specialist with a passion for travel who has been living in the destination for a minimum of six months. These area content specialists will collect and post the travel scoop. Additional user-generated traveler reviews will provide secondary support to the initial listing. The site will be a one-stop resource to find and compare local products and services. Focusing on travel and tourism, it will cover major categories including Where to Eat, Where to Stay and What to Do. Used as a research tool, MoxieGuide is designed to help vacationers plan their perfect itineraries. When used as an online directory it can help those potential visitors to easily contact their desired hotels and tour operators.
Contributing travelers will be writing reviews and offering advice, opinions and insider tips to future tourists and locals alike. This collaborative approach, like Wikipedia and Couchsurfing, is meant to entice all travelers to share their honest feedback about the ins and outs of a particular destination.
The impending Fiscal Cliff may have made vacationers skeptical about investing in a vacation. Moxieguide.org can help trip planners make informed and economical choices. Trip Advisor has turned some travelers sour due to the rising percentage of fabricated reviews created by businesses to thwart competitors and boost overall ratings. Moxieguide.org intends to restore faith in the travel review concept by creating a trusted Wikipedia-like environment that shares the honest views of local experts as well as visitors.
Each regional expert managing the destination content will be experienced in SEO best practices, ensuring that Moxieguide.org and its Facebook profile are optimized for maximum exposure in organic search results.