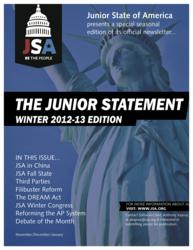 Washington, DC (PRWEB) January 31, 2013
The Junior State of America (JSA) today released the Winter 2013 Edition of The Junior Statement, its quarterly news publication. The student-written and student-edited online news magazine covered a variety of topics. From the conflict in Syria, to the fiscal cliff, to reflections on the experience of JSAs program in Beijing, the students' varying perspectives were on full display in the latest issue.
For JSAs student writers and editors, its publication is a major point of pride. The Junior Statement aims to increase political, cultural, and social awareness in an effort to promote civic engagement in Americas youth, said Junior Statement Editor-in-Chief Anthony Kayruz. Being included in The Junior Statement is an honor that no politically interested young person should decline.
Publication of the Junior Statement began in 1935 at the Montezuma School for Boys where the Junior State of America was founded. "For over 75 years, the Junior Statement has been a medium where JSA students can voice their opinions on subjects both related to our organization and related to the wider world. It really excites me to see what insights the students share in each edition," said Jeff Harris, JSAs CEO.
Junior State of America (JSA): Providing civics education and leadership programs for nearly 80 years, JSA is the largest student-run organization in the United States. School-year programs take place in more than 450 secondary schools in 35 states, with more than 10,000 members. The JSA program is supported by the Junior Statesmen Foundation Inc., a 501(c)(3) tax-exempt educational corporation, which provides guidance to JSA's student leaders. It has offices in San Mateo, Calif., and Washington, D.C. More information is available at http://www.jsa.org/ or jsa(at)jsa(dot)org.
###
Related Fiscal Cliff Press Releases