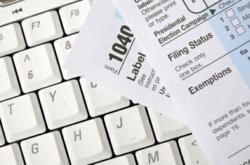 El Segundo, CA (PRWEB) February 26, 2013
Almost three-quarters of Americans are planning to cut back spending to compensate for paychecks reduced by the 2013 payroll tax increase that came with the fiscal cliff deal, according to National Retail Federations 2013 Tax Returns Survey. With the payroll tax increase already taking a chunk out of Americans paychecks, many consumers are already feeling the financial strain on their bank accounts, and will be less willing to spend extra money filing 2012 tax returns.
Leading finance resource GoBankingRates.com investigates a range of tax services to highlight the best no cost tax help in its latest consumer report. This guide shows tax filers how to save more money and ease the cost of filing 2012 tax returns.
If you think youre going to owe money this year, the last thing you want to think about is pulling more money out of your savings account to pay taxes, notes Stacey Bumpus, an expert contributor to GoBankingRates. Luckily, there is plenty free tax help available to not only answer your questions about filing, but submit your forms for you at no cost.
The guide to free tax help covers a range of resources, including no cost tax help hotlines, tax preparation services and websites, and mobile apps that can provide consumers with the information needed to prepare their 2012 tax return.
View the full list of free tax services here.
For questions about this report or to schedule an interview with a GoBankingRates editor, please use the contact information below.
About Go Banking Rates
GoBankingRates.com is a national website dedicated to connecting readers with the best interest rates on financial services nationwide, as well as informative personal finance content, news and tools. GoBankingRates collects interest rate information from more than 4,000 U.S. banks and credit unions, making it the only online rates aggregator with the ability to provide the most comprehensive and authentic local interest rate information.
Contact:
Jaime Catmull, Director of Public Relations

GoBankingRates.com

JaimeC(at)GoBankingRates(dot)com

310.297.9233 x261

424-903-9002
###
Source: National Retail Federation 2013 Tax Returns
Find More Fiscal Cliff Press Releases