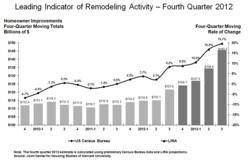 Chicago, Illinois (PRWEB) February 11, 2013
According to the professionals at Littman Bros Lighting, the future of this years housing market looks to be lively they are seeing an increase in new projects for commercial and residential construction and are finding that homeowners are also more inclined to give their homes a face lift.
These new growth developments for the housing market suggest that this will be a positive thing for those in the lighting industry. Where remodels and home construction is seen, new lighting is inevitable; although this is said to be a slow growth, there is definitely a mend in the market.
In a survey done by houseingzone.com through the Professional Builder magazines 2013 Market Outlook, those questioned all agreed that there is a light at the end of the tunnel. The surveys found that while 2012 was a relatively flat year for builders, 2013 looks to be a turnaround year one in two builders surveyed said they expect to see higher revenue in 2013 compared to this year.
In that same survey, just about a quarter of participants said they expect to see annual revenue gains of 10 percent or more. Some of the challenges this year were voted to be the overall economy (60.1 indicated it was one of their top-three obstacles); project funding; continued softness in home prices; and getting customers qualified for a mortgage.
Although there still are concerns, expecting solid gains in the housing market in 2013 will show solid gains for the lighting industry, and this of course includes remodeling and home improvement.
The Remodeling Futures Program at the Joint Center for Housing Studies of Harvard University is a widespread examination of the aspects influencing the growth and changing characteristics of the housing renovation and repair activity in the United States. They also release a very informative report called the Leading Indicator of Remodeling Activity (LIRA), designed to estimate national homeowner spending on improvements.
After some research found at jchs.harvard.com regarding the housing market and remodeling recovery, it was apparent the outlook does look bright. According to the most recent LIRA report healthy spending in the second half of 2012 suggests the remodeling recovery is already in progress, projecting annual homeowner improvement spending to see an increased double-digit growth through the third quarter of 2013.
Eric S. Belsky, managing director of the Joint Center, said that it is reassuring that the housing division is a factor in the growth of our economy.
Through the first three quarters of 2012, investment in the residential secto was responsible for one out of every six dollars added to our GDP, Belsky said. Moving forward, the home improvement spending is expected to make an even larger contribution to GDP growth.
With this truly positive information gleaned by the professionals at the Joint Center, it is apparent that the residential sector is showing signs of improvement. The housing market is slowly recovering, although slowly and still in the initial stages, it has turned a corner that will certainly be beneficial to showrooms that will supply resources to these homeowners.