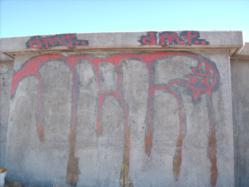 (PRWEB) January 31, 2013
Removing graffiti promptly is the only way to keep it from getting worse, no matter how many times it has to be done. Even when the graffiti taggers persist as though it is a competition giving in and letting the tags remain is a poor short-term option with potentially devastating long term consequences.
Many studies show when graffiti becomes common in a neighborhood, property values drop. It gives the appearance that no one cares which is an open invitation to more vandalism.
And when it appears no one cares about the appearance of the neighborhood, other types of vandalism will follow. Windows start getting broken, junk cars are abandoned, and the whole area goes down hill. This happens most frequently in inner cities but can happen in suburbs, too.
Were always investigating more efficient methods of graffiti removal, said Joel Shorey, President of Wash On Wheels. We keep our costs as low as possible to help people keep their properties from looking run down.
A few years ago, Wash On Wheels was recognized by Denver Mayor John Hickenlooper (now Colorado Governor) for donating trucks and equipment to help clean up graffiti in Denvers Capitol Hill neighborhood.
With 27 years experience in Denver, graffiti removal is one of Wash On Wheels specialties. They also specialize in EPA water recovery and include it with their pressure washing service at no extra charge.
Wash On Wheels is Colorado's largest mobile pressure washing company. In business since 1985, they have an A+ rating with the Denver/Boulder BBB. The companys services include pressure washing commercial buildings, sidewalks, parking garages, restaurants, and graffiti removal. Their services also include car washing for auto dealers, fleet truck washing, boat cleaning and interior and exterior detailing. They specialize in emergency grease and oil spill cleanups. Wash On Wheels services the Denver metro area and Front Range Colorado. For more information, contact Joel Shorey at 303-937-7181 or visit http://www.washonwheels.net.