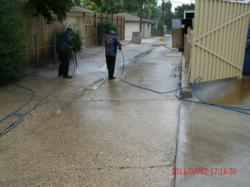 (PRWEB) April 05, 2013
Most cities are restricting the watering of lawns since its the largest nonessential use of water. But effective April 5, 2013 water restrictions in Fort Collins will be much more strict.
After the fires last summer in Poudre Canyon, the ash and mud in the burned out areas ran down into the Poudre River and the water may not be usable. Since Fort Collins gets half of their drinking water from the Poudre River, they are immediately restricting all pressure washing on siding, garages, sidewalks, driveways, and patios except as necessary for health and safety reasons.
Other restrictions apply as well. For example, car washing for auto dealers is restricted to once per week. Other car washing must be done by hand with a bucket. If the water restrictions at this Response Level 1 arent enough to keep the projected water supply shortage at acceptable levels, there are three more restrictive levels that may have to be put in place.
Pressure washing companies that arent used to drought conditions can use far more water than they need. As one example, we use less than two gallons per car when washing for our auto dealer clients, said Joel Shorey, President of Wash On Wheels, We dealt with the drought conditions in 2002 and have run as efficiently as possible for the last 11 years.
With 27 years experience in Denver, Wash On Wheels knows how to deal with Colorados drought conditions. They also specialize in EPA water recovery and include it with their pressure washing service at no extra charge.
Wash On Wheels is Colorado's largest mobile pressure washing company. In business since 1985, they have an A+ rating with the Denver/Boulder BBB. The companys services include pressure washing commercial buildings, sidewalks, parking garages, restaurants, and graffiti removal. Their services also include car washing for auto dealers, fleet truck washing, boat cleaning and interior and exterior detailing. They specialize in emergency grease and oil spill cleanups. Wash On Wheels services the Denver metro area and Front Range Colorado. For more information, contact Joel Shorey at 303-937-7181 or visit http://www.washonwheels.net.
Related Oil Spill Press Releases