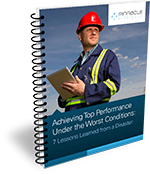 Plano, TX (PRWEB) March 27, 2013
Pinnacle Strategies, a global authority on operations management and supply chain management, today announced that their new eBook, Achieving Top Performance Under the Worst Conditions: 7 Lessons from a Disaster, is available for download. The publication reveals for the first time – key lessons gathered during Pinnacles participation in the Gulf of Mexico oil spill recovery effort and poses the question, if this is what can be accomplished under the worst conditions, what can you achieve right now?
Organizations need quick results from their operations improvement efforts, and these lessons were learned in a situation that required huge increases in output in an incredibly short time. When Pinnacle Strategies was called to support the Gulf of Mexico oil spill cleanup, the pressure was on to delivery immediate results in the supply chain to increase output dramatically.
In the Gulf, we strategically blended performance and process management approaches in order to get the job done – from the supply chain to the vessel decontamination, recalls Pinnacle Strategies president and CEO, Mark Woeppel. It required us to be extremely focused, versatile, and obsessed with the goals of the client. This eBook reveals for the first time what we learned and how it is helping businesses achieve great things right now.
This eBook shares the seven lessons learned during this time; each can be applied by managers to immediately increase their supply chain output.