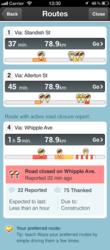 Palo Alto, CA (PRWEB) February 27, 2013
Waze, the worlds largest community of drivers working together to fight traffic by saving time and gas money on their daily commute, is announcing a new feature today the ability for drivers to report and close roads on the map in real-time, to help others avoid a unnecessary delays or complications along their routes.
Help comes from the crowd
During Hurricane Sandy, Waze was contacted by FEMA and the White House to tap the community of drivers in New York help each other find open gas stations. The community responded and worked together, illustrating once again the power of the crowd. While Hurricane Sandy was one of many events this year that drastically changed the roadways for local drivers, extreme weather conditions affect roads everywhere, everyday. Events like major accidents, oil spills, floods, and construction zones can impose road changes and force major highways to close for several hours. Until now, theres been no solution that can keep up with the temporary and often unpredictable nature of these events.
Waze is confident that its active community of over 40 million users and growing will provide sufficient coverage to effectively support this new road closure feature. In 2012, Waze's community shared 30 million reports in the US alone. This, combined with a bustling community of map editors who made over 500 million edits in the past year means that Waze's maps will always be the most up to date, and most reflective of real-time conditions on the road.
The fact that my phone shows me what my friends are having for breakfast across the world in real-time, but the maps on it dont reflect a major intersection around the corner has been closed for three months due to construction was a clear indication to us that something needed to change, said Noam Bardin, CEO of Waze. The only way to address this problem at a large scale is through the power of the community working together. Were starting with road blocks
How it works
When drivers come to a stop due to a road closure, they can chose to report it to the community. They can even include more details including type of closure (hazard, construction, or event) and how long they expect it to last. In the event of a long-term closure, Waze's community of map editors will receive a notification and will then be able to close the road for a longer period of time if necessary.
Smart systems are also in place to ensure accuracy and predict reality. Waze will only close down a road once its algorithm has enough evidence to discount the possibility of error. Alternatively, once Waze detects cars driving on a closed off street, it will automatically return the road to its normal status and routing will resume as normal.
The Waze App is available for on iOS and Android devices, and be downloaded for free in the Apple App Store or in Google Play Market.
About Waze
Waze is a free traffic and navigation app, home to the world's largest community of drivers who work together to fight traffic, and save time and gas money on their daily commute. By simply driving with Waze open, drivers passively contribute traffic info that benefits their local driving community. Drivers can also actively report events such as accidents, police traps, or hazards along the way. Aggregating this crowdsourced road info, Waze provides the best real-time routes that bypass traffic, even re-routing drivers as road conditions change.
The Waze community is over 40 million strong and growing! Start saving valuable time and gas money, and make driving just a little more fun.