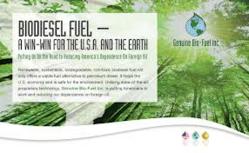 Indiantown, FL (PRWEB) January 29, 2013
In the wake of the new biodiesel tax credit extension, there has been constant debate over the benefits and validity of biodiesel fuel production. The oil industry has done everything within its power to overturn mandates set by the Environmental Protection Agency on Renewable Fuel Standards (RFS) including media attacks and even suing the agency — and according to Politico article, "Court: EPAs Unrealistic Biofuel Goal Hurt Refiners" the U.S. Court of Appeals for the DC Circuit ruled in favor of big oil. In the midst of this heated debate, Genuine Bio-Fuel (GBF), an industry leader in biodiesel production technology, is taking the time to clear the, air literally and figuratively.
Biodiesel fuel production is an integral part of solving problems that plague the nation including Global Warming, preserving our environment and creating new jobs. Executive Vice President of the company, Jeff Longo believes the benefits of biodiesel production more than justify the extension of the tax credit; it also vindicates the need for a long-term legislative solution to support the industry.
Great controversy has surrounded the industry regarding destroying crops, using precious water, increasing food costs and big oil companies are even now on the attack. Longo asserts, The opposition seen by biodiesel producers from the oil industry are self serving at best. Oil companies are planning to throw millions of dollars at a media blitz to try to influence congress to reverse the biodiesel blend mandate. However, the facts remain that the use biodiesel has environmental, economic and consumer benefits.
According to the Alternative Fuels Data Center, biodiesel fuel reduces the emissions of pollutants such as unburned hydrocarbons, carbon monoxide, sulfates into the air, and reduces the effects of green house gas simultaneously. It is a non-toxic and can be produced from the remaining energy within wasted vegetable oil, non-edible cooking oil, brown grease, trap grease, and yellow grease its production creates a safe and efficient way to dispose and reuse these waste products without competing with food crops.
In addition to the environmental benefits, the alternative energy industry is putting Americans back to work. With the laundry list of benefits Longo suggests, The general public needs to understand the importance of biodiesel and question why is Big Oil going to these extreme efforts to halt biodiesel production. Americans have seen and felt the damages excessive use of oil causes, especially during the BP Oil Spill; its now time for them to experience the benefits of alternative energy.
More about Genuine Bio-Fuel: Genuine Bio-Fuel Inc. is a leader in biodiesel production and technology in Florida. Working with local communities since 2008, they collect used vegetable cooking oil, plant oils and fats, refine it and efficiently produce renewable, sustainable clean biodiesel that meets or exceeds the required ASTM standards. An RFS-2 Registered Renewable Fuel Producer, this dedicated environmental steward is 100% privately funded. To find out more about Genuine Bio-Fuels please visit our website http://www.genuinebiofuel.com/.
For more detailed information about the benefits of biodiesel fuel production please contact Jeff Longo by phone toll free 866-268-7885, or via email at gbf(at)genuinebiofuel(dot)com.