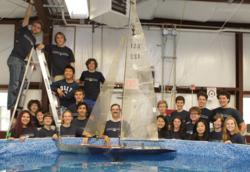 Needham, MA (PRWEB) April 03, 2013
The robotic sailing regatta has more than doubled in size in one year, thanks to a growing interest in robotics and the addition of a 1-meter hull class, geared toward attracting high school participation. Hosted by Olin College and the City of Gloucester, the regatta has attracted nineteen teams, including seven high school teams looking to make waves. Last year, 8 teams participated in the regatta, including Olin, whose rookie team placed second overall. This year, Olin College will partner with the City of Gloucester to co-host the 7th International Robotic Sailing Regatta, Sailbot on June 9-13, 2013 in Gloucester Harbor. Event sponsors include: Instron, Maplesoft, and Nortek.
We were inspired by First Robotics to take the concept to the sea, said Andrew Bennett, an Olin faculty member and organizer of this years regatta. Not only is robotics fun but its also the next big disruptive technology and we need to develop the next generations passion and expertise in this field.
The global robotic sailing competition began in 2006 as a senior project at the University of British Columbia. The contest challenges student teams to design and build robotic sailboats capable of five on-water challenges which test the speed, maneuverability and navigational capabilities within the environmental variables. In addition, each team will present the innovative and dynamic methods used in the design and manufacturing process in detail.
Participating in this years event will be: