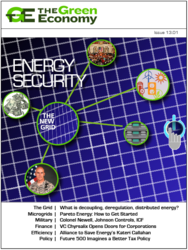 New York, New York (PRWEB) February 08, 2013
Energy deregulation is changing "the grid" into a more democratic energy network, opening new opportunities for consumers to become active participants in their energy future, according to a new article released by THE GREEN ECONOMY.
Deregulation separates electricity supply from delivery, introducing new resources to the market that include more efficient, distributed generation.
"All deregulation means is that it opens up the sources of supply," said Tana Kantor, publisher of THE GREEN ECONOMY.
In its January issue, The Green Economy explains the terms surrounding distributed energy and why they matter for companies looking to be self sufficient and more energy efficient. According to David Logson, Specialist Distribution Engineering, ConEdison, "Often it is the hardest thing to boil 'BIG' concepts down to the essentials, but this does a very good job of it."
Businesses and consumers have to know how the integration of new products is driving the new economy. Becoming their own mini-utilities, creating, storing and managing their own energy supply and use, consumers see savings and reduced risk from price and voltage fluctuations.
THE GREEN ECONOMY provides news, analysis and ideas for business leaders who are creating a new world economy through strategies that acknowledge, calculate for and take advantage of a resource-constrained environment. To see other articles, go to http://www.thegreeneconomy.com

###