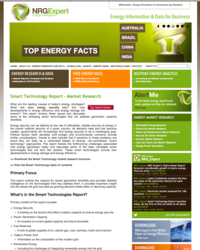 (PRWEB UK) 21 February 2013
NRG Expert's Smart Technology Report asks "What are the leading causes of todays global energy shortage and what can smart technology do?". As energy demand rises and energy reserves become costly, governments will increasingly find it challenging to secure their energy supply.
NRG Expert, the energy market research company, has therefore reviewed the state of energy generation today and released a new piece of market research called the Smart Technology Report. This report discusses some of the likely candidate technologies that will form the solution. Of particular interest, are the smart technology developments in the fields of energy efficiency, energy storage and energy extraction. Here NRG Expert share some of the highlights from the Smart Technology Report.
Typically in the past the focus has been on our depleting reserves of oil and gas. There has been a rush for new reserves and energy sources. However with actual reserves of oil and gas expected to last another 46 and 59 years respectively there has been in shift in focus to smart technology as this can enable us to use our finite energy sources more efficiently. It may not be a matter of finding new resources, but simply prolonging the life of the resources we already have. Smart technologies can greatly improve energy efficiency.
Advancements in energy storage technologies can mean better integration of the intermittent energy which is generated from renewable energy sources . Modern grid systems require predicable flows of energy that cannot be provided by renewable sources. If however the intermittent generation is stored for later use, then this would mitigate the need for expensive peaking plants to meet spikes in demand. New energy storage technologies can add real value by storing the energy until it is required.
Furthermore advances in technology can help at the extraction phase too. New smart technologies have meant that some energy resources which were previously too costly too extract, can now be extracted in a cost effective way.
Smart Technology Developments
NRG Expert's Smart Technology Report reviews some of the up and coming smart technology trends. For example:
> Smart technologies are being developed which reuse waste heat produced during power generation and industrial production.
> Micro hybrid vehicles are experimenting with stop/start technology.
> Advances are being made in conventional vehicle engines which can improve the energy efficiency of cars
> Plus there are technological advances in lighting and indoor climate control which means companies will soon require less energy to heat and light the same space as before.
All these initiatives mean smart technology can help to make current energy supplies go further
For a full overview of the smart technologies that could help overcome the looming energy shortage, request NRG Experts market research report on Smart Technology by clicking here.
Background information

NRG Expert is a London and Toronto based energy market research publisher. NRG Expert provides up to date information and analysis on worldwide energy markets, including in depth research on Smart Technology, Energy Efficiency, Energy Storage, Electricity Transmission and Distribution, Power Infrastructure, and Power Generation.