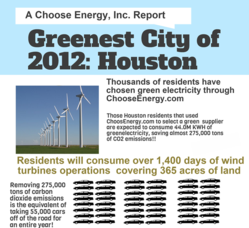 Houston, TX (PRWEB) March 12, 2013
Choose Energy, Inc., the leading online energy platform dedicated to assisting Texas residents minimize, understand and compare their energy supply options, is pleased to announce the Greenest Texas City of 2012. Using the companys proprietary data analytics platform, Choose Energy can see real-time consumer electricity choice trends. With this data, the company has aggregated select enrollment statistics from 2012 and has some rewarding insights into which Texas city has the greenest population.
And the winner is Houston! Those Houston residents that used ChoosEnergy.com to select a green supplier are expected to consume 44.0M KWH of green electricity, saving almost 275,000 tons of CO2 emissions.
The residents of Houston can choose from many retail energy providers, but an overwhelming number of these residents have visited ChooseEnergy.com to simplify the search process and select an environmentally-friendly energy supply option. The ChooseEnergy.com Energy Comparison Platform lets consumers quickly and effectively search through competing offers for the most competitive electricity rate in Texas. By simply entering a valid zip code, ChooseEnergy.com will automatically generate up-to-date, comprehensive information regarding the different Texas electricity providers and their lowest rates. Customers enter their information directly on the site, making the process of switching providers faster.
The Choose Energy platform offers a variety of plan selection options for the Texas consumer, allowing the resident to choose variable or fixed length contracts, traditional or green generation supply, or prepay options. Despite these many options, the people of Houston have overwhelmingly chosen the green electricity plans available to them, utilizing the ChooseEnergy.com site to select renewable electricity plans from one of the four prominent REPs that provide green electricity in their area. The four green electricity REPs currently serving the Houston area are:
a)