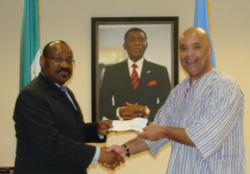 New York City, New York (PRWEB) January 28, 2013
The Goree Challenge received support from H.E., Obiang Nguema Mbasogo, the President of Equatorial Guinea. Victor Mooney, AIDS activist and transatlantic rower will soon get another chance for a fourth bid to row across the Atlantic Ocean later this year from the Canary Islands to New York. Mr. Mooney has lost one brother to AIDS and has another battling the disease.
With the immediate funding, Mr. Mooney can purchase an ocean row boat thats currently in Brazil. On Sunday, he returned to St. Patricks Cathedral in New York where he tweeted a prayer to his guardian angel (Blessed John Paul) on World AIDS Day and asked for help.
The 24 foot custom made ocean row boat was built by Flab – Constru