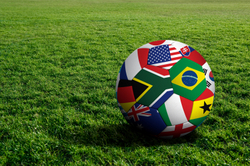 Beverly Hills, CA (PRWEB) June 7, 2010
As a break from projecting the strength of subprime mortgages, credit default swaps and other obscure financial instruments, quantitative analysts at Goldman Sachs, JP Morgan, UBS and Danske Bank have modeled the 2010 FIFA World Cup. Kaggle has set up a forecasting competition, allowing statisticians to go head-to-head with these corporate giants.
The statisticians who compete on Kaggle have already proved their mettle by collectively outperforming the betting markets at predicting the outcome of the Eurovision Song Contest. Details of the World Cup competition are on the World Cup 2010 – Take on the Quants challenge page. You can also read a summary of the investment banks' methods.
Kaggle is a platform for data prediction competitions. Organizations post their data and have it scrutinized by the world's best statisticians. For more information, visit the about us page.
# # #