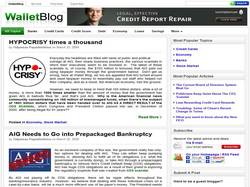 Arlington, Virginia (PRWEB) March 24, 2009
Evolution Finance, Inc., parent company of the well known credit card portal CardHub.com, today announced the launch of Wallet Blog — http://www.walletblog.com — its no-holds-barred official blog, which covers topics that directly or indirectly affect the consumer's bottom line.
CEO and founder Odysseas Papadimitriou believes the new blog is a natural progression for a company that was created out of a passion to give more financial control to everyday people.
"Everything we've done under the Evolution Finance umbrella –so far– has helped everyday consumers take better control of their personal finances and their credit cards in particular," said Papadimitriou. "Our credit-industry and financial-industry insiders will tackle the topics that directly or indirectly affect people's wallets."
He is disappointed that many within the large corporate media outlets have failed to ask the hard questions leading up to this economic crisis, the hard questions about accountability, and the changes that need to be made to prevent future fiscal calamity.
"Many consumers believe corporate media has failed them," Papadimitriou said. "Wallet Blog provides expert analysis, opinion, and will never favor entertainment over truth."
Current Wallet Blog articles generating interest in the blogosphere include "Politicians Keep Quiet About the Credit Default Swaps (CDS) Scandal", "Less Rewarding Credit Card Rewards", and "The Current Board of Directors System Must Go."
About Evolution Finance, Inc. and CardHub.com

The Evolution Finance one-of-a-kind, dynamic search engine CardHub.com allows consumers to find the credit card application that is tailored to both their credit history and needs, and provides consumer advocacy through credit card education. Its new blog is online at http://www.walletblog.com.
###
Find More Credit Default Swap Press Releases