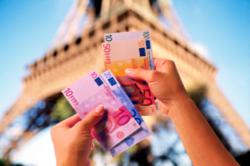 New York, NY (PRWEB) November 28, 2011
Today, Michael Lombardi, leading contributor to Profit Confidential, reports on the dangerous situation occurring in Europe: Heres what investors know so far about the eurozone crisis. Ireland, Portugal and Greece have all asked for a bailout. Spain and Italy are next. The governments of both Greece and Italy have toppled.
Lombardi goes on to state a fact not often discussed, However, the wild card that most investors fail to recognize is the second largest economy in the eurozone; France.
Many thought that France was getting its house in order, being one of the first in the eurozone to announce austerity measures targeted at lowering the countrys debt. Although France was quick to introduce austerity measures, Frances present debt is not the issue and bigger storms lie on the horizon.
According to Profit Confidential, a popular and highly accurate financial e-newsletter, the big problem consists of the French banks.
French banks have too much exposure to Italy, states Lombardi of Profit Confidential. Yes; French banks have plenty of bad Italian debt on their books. The stock prices of French banks have been taking a pounding on the CAC, the major French stock market.
The fear is that the French government will have to bail out its banks because of their exposure to Italian debt. This is causing interest rates on French-issued bonds to rise very quickly. According to Profit Confidential, this loss of investor confidence can grow and cause serious issues for a nation far too large to bail out.
Recently, Moodys Investors Services warned on French government debt. French bonds demand 200 basis points more than German bonds (10-year notes), a new eurozone spread high between the two countries.
Germany has been reluctant to let the European Central Bank simply print money and bail out the weaker eurozone countries, because Germany has experienced its fair share of hyper-inflation in the past due to over-printing money; something they dont want to do again.
According to Profit Confidential, The alternative is for Germany to pull out of the eurozone. The prospects for the euro continue to erode. Its doomed either way: The $ 2.0-trillion round in money printing needed to bail out the eurozone will unleash rapid inflation and push down the value of the euro. If Germany pulls out of the eurozone, the euro is finished anyway. All hail gold!
Lombardi, of Profit Confidential, also has an in-depth analysis entitled, My Bold Prediction on How the Euro Crisis Will Play Out for America. Profit Confidential has been a leader in steering its readers to avoid the pitfalls of recent economic turmoil and be able to profit from such opportunities.
Profit Confidential, which has been published for over a decade now, has been widely recognized as predicting five major economic events over the past 10 years. In 2002, Profit Confidential started advising its readers to buy gold-related investments when gold traded under $ 300 an ounce. In 2006, it begged its readers to get out of the housing market…before it plunged.
Profit Confidential was among the first (back in late 2006) to predict that the U.S. economy would be in a recession by late 2007. The daily e-letter correctly predicted the crash in the stock market of 2008 and early 2009. And Profit Confidential turned bullish on stocks in March of 2009 and rode the bear market rally from a Dow Jones Industrial Average of 6,440 on March 9, 2009, to 12,876 on May 2, 2011, a gain of 99%. To see the full article and to learn more about Profit Confidential, visit http://www.profitconfidential.com.
Profit Confidential is Lombardi Publishing Corporations free daily investment e-letter. Written by financial gurus with over 100 years of combined investing experience, Profit Confidential analyzes and comments on the actions of the stock market, precious metals, interest rates, real estate, and the economy. Lombardi Publishing Corporation, founded in 1986, now with over one million customers in 141 countries, is one of the largest consumer information publishers in the world. For more on Lombardi, and to get the popular Profit Confidential e-letter sent to you daily, visit http://www.profitconfidential.com.
Michael Lombardi, MBA, the lead Profit Confidential editorial contributor, has just released his most recent update of Critical Warning Number Six, a breakthrough video with Lombardis current predictions for the U.S. economy, stock market, U.S. dollar, euro, interest rates and inflation. To see the video, visit http://www.profitconfidential.com/critical-warning-number-six.
###