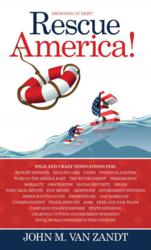 Longwood, FL (PRWEB) July 22, 2011
Author John M. Van Zandt believes that in regards to the content in his book, Rescue America!, the title says it all. Rescue America! is a book that discusses various problems facing America and, in the authors opinion, some "wild and crazy" innovations to solve them. Rescue America! poses the question of why the United States of America is becoming a broken, and drowning country. Van Zandt reports that Americas citizens do not trust their government, legislators, or executives and thoroughly describes that political partisanship has become uncontrolled. He also observes that both parties appear to be almost the same: they both have their liberal, moderate and conservative wings, but in somewhat unequal proportions. Van Zandt states that readers will learn what has happened on the national forefront in the past and be enlightened to other more in depth and broader solutions to these resulting problems.
Rescue America! approaches the subject that both of the political parties are sending America to the poorhouse. Why is this? Because democracy, which is the most superior form of government, has some faults one of which requires legislators and executives to keep spending money in order to bribe voters to elect them. Nowadays both parties are trying to outdo the other and we need major reform in order to correct this unfair and immoral act. Van Zandt expertly informs readers that we need major electoral reform and campaign financing change. In addition, the author exposes the very serious concern regarding Americas paper money. Fiat money is paper-printed money without any assets to back it up. It has no intrinsic value except the paper it is printed on. We need complete reform of our ability to print and issue fiat currency. Rescue America! offers tangible solutions to each of these issues.
John M. Van Zandt is a longtime proven innovator in the cosmetics business and other industries. Today, at age 85, he is exporting skin care products to Africa, South America and the Mideast. This book is the partial result of having visited 126 countries and observing various world cultures. The World Freedom Federation plan is a product of seeing the wants and needs of populations throughout the globe.
Xulon Press, a division of Salem Communications, is the worlds largest Christian publisher, with more than 8,000 titles published to date. Rescue America! is available online through xulonpress.com/bookstore, amazon.com and barnesandnoble.com.
###
Related Print Money Press Releases