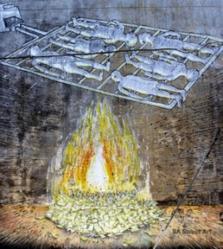 Austin, TX. (PRWEB) February 01, 2012
James Gorrie of The Gorrie Details column wonders if it is really true, has a deadlocked Congress prevented the economy from being helped, or has it made it worse, or does it really matter.
James wants to break this down, by looking at the Power of the Purse, and who really has the power of the purse in this country. It used to be that Congress held the monopoly on printing money, explains James Gorrie in The Gorrie Details column, not only could no bill be funded without Congressional approval, but the money itself could not be printed without Congressional approval.
Congress would approve the budget, and various import taxes, tariffs, and sale of federal land would pay for the budget, explains James Gorrie of The Gorrie Details column. Significantly, there was no welfare state funded by the federal government, writes James Gorrie, and there were no federal income taxes, but those days are long gone.
In 1913, a little known university professor was sworn in as President of the United States, writes The Gorrie Details column, his highest station before that had been the President of Princeton. This professor had earlier said openly that the U.S. Constitution had become outdated and irrelevant, reveals James Gorrie in The Gorrie Details column, yet somehow he became president of the United States. The Gorrie Details column explains that one of the first acts he did was to propose that the country establish a central bank separate from the United States.
This legislation for the 16th Amendment was rammed through congress and the federal income tax was born, explains James Gorrie, what it did was move the authority of printing money away from Congress to a private corporation called the Federal Reserve. James Gorrie in the column goes on to add, this alone shifted great power out of the Congress, the representative body of the citizens of United States, and gave it to a select group of people who may or may not be citizens of the United States. Congress, James Gorrie explains must answer to the American people ceded its constitutionally granted power to print money to an entity that answers to no one. Read the rest of The Gorrie Details column by James Gorrie at the AbsoluteWealth.com website.
###