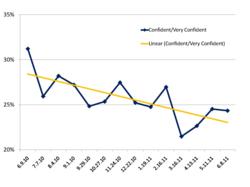 Worthington, OH (PRWEB) June 14, 2011
89.9% of those who currently have a job say they are not counting on a salary increase next year, according to the latest American Pulse Survey of 5,242 respondents. Consumers are still struggling with high fuel prices and the rising cost of goods while incomes will likely remain unchanged. Only 10.1% think they will see a pay increase while the rest are planning to have less disposable income.
In order to prepare for higher prices and stagnant incomes, most Americans (70.5%) are planning to buy just the necessities. Driving less and spending less on clothing are also popular penny-pinching activities:
How to Prepare for Rising Food/Gas Prices If Salary Stays the Same

Only buying necessities: 70.5%

Driving less: 63.4%

Spending less on clothing: 58.9%

Comparison shopping: 53.1%

Sticking to a strict budget: 50.0%

Buying more store brand/generic products: 49.9%

Spending less on groceries: 42.0%

Nothing: 6.6%
Source: American Pulse Survey, June-2011
For a special report on American workers, click here or fill out the form below.
The vast majority of consumers who expect their salaries to remain the same are planning to cut backonly 6.6% are not planning to make any changes to their spending habits.
Further, 3 out of 4 Americans (75.7%) have little or no confidence that the governments economic policies will get the economy back on track while 24.3% say they are confident or very confident. Confidence was at its lowest in March (21.5%), and has been steadily declining since June 2010 (31.2%). SEE CHART
In addition, the majority of American consumers (68.6%) are somewhat/very worried that the U.S. government will slip into another recession this year. 11.8% are not very or not at all worried while 19.6% are unsure.
The Federal Reserve has suggested printing money as a way to help get the economy back on track, but most Americans dont think this will work. While 18.0% think creating more currency will boost the economy, over half (61.0%) say flooding the market with new bills will hurt the economy in the long run (21% arent sure).
Speaker of the House John Boehners policy that would match any increases to the debt ceiling with equal spending cuts is mostly favorable among Adults 18+. 44.2% somewhat or strongly agree with this plan; 21.7% disagree and 34.1% are neutral. In order to balance the budget, Americans are willing to make cuts to public workers salaries and benefits (49.0%), welfare programs (38.9%) and military spending (33.8%).
American Pulse

The American Pulse Survey is collected online by BIGresearch